Assault & Battery

Felony Assault

Multiple Felonies

Five Serious Felonies

Multiple Felonies

Four Felonies Involving a Vehicle

DUI

Second Offense DUI

Theft Crimes

Robbery With A Firearm

DUI

DUI with Accident

Theft Crimes

First Degree Burglary Home Invasion

Drug Crimes

Three Counts Of Possession Of Drugs

White Collar Crimes

Embezzling From Employer

Hit & Run

Hit & Run DUI
Sacramento Criminal Defense Attorney
Client Update: Our legal team understands how scary, stressful, and confusing this time can be, especially since criminal courts throughout California have been closed to the public for the time being. However, since arrests are still being processed, criminal investigations are still ongoing, and emergency hearings are taking place, you still need a lawyer to protect your rights and freedom while you remain home. Our firm remains open and working remotely! Attorney Jonathan Gonzales remains available to either attend court proceedings, answer your questions as well as file a motion for release based upon the virus. We look forward to hearing from you take care and stay safe.
Fighting for Results in Both State & Federal Courts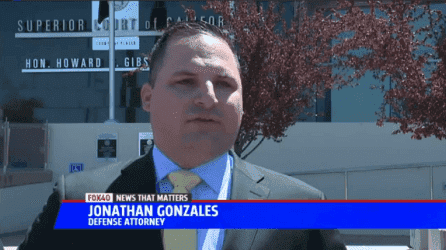 Being arrested or charged with a crime in the State of California is a frightening, frustrating, and confusing situation, especially if it is your first time.
Not only could you face severe penalties that range from steep fines to years of incarceration, but a conviction also results in having a permanent criminal record that could cause irreparable damage to your professional reputation and personal life.
The best thing you can do as soon as you get arrested is to retain legal representation from an experienced criminal defense lawyer who helps you obtain the best possible results. At the Law Office of Jonathan Gonzales, Attorney Jonathan Gonzales has remained undefeated from 2016 through 2019 for jury trials. This year will be no exception.
His meticulous case preparation and aggressive attitude have resulted in life-changing results for thousands of clients. Do not hesitate to let a Sacramento criminal defense attorney protect your rights, reputation, and freedom immediately.
Contact Law Office of Jonathan Gonzales today for your free consultation!
Former Police Officer Lends Insight to Your Case
As a former Police Officer, Attorney Gonzales has valuable insight into how cases are handled and how charges are pursued, giving you an advantage at trial. He also understands how law enforcement can make mistakes, which could benefit your defense.
Sacramento criminal defense lawyer Gonzales, will investigate your case, collect evidence, and create a strong defense strategy to either get your entire case dismissed or your charges/penalties significantly reduced.
In fact, he has maintained an undefeated track record as a criminal defense lawyer at trial for the last three years by providing his clients with aggressive and personalized legal solutions. If you are facing criminal charges, our defense attorney in Sacramento can effectively advocate for your future.
Award-Winning Team of Professionals at Your Back
When other attorneys deal with cases they cannot resolve, they call Attorney Gonzales in for guidance. Along with Licensed Private Investigator Robert Hessee, Attorney Gonzales has successfully helped many clients avoid harsh penalties or wrongful convictions at both the state and federal level.
Due to his success, hard work, and commitment to excellence, Attorney Gonzales has been listed in Super Lawyers® Rising Stars as well as in the "Top 40 under 40" list by National Trial Lawyers. Let the Law Office of Jonathan Gonzales help you get your life back on the right path.
Looking for a winning criminal defense team? Look no further. Call (916) 318-5177 for a free consultation and more information about your legal options.
Cases We Handle
Retain the counsel you need to face and fight your criminal charge. Turn to the Law Office of Jonathan Gonzales for aggressive strategies that get results.
An Unwavering Drive to Fight for the Accused
A dedicated trial lawyer with an undefeated record of results for 2016, 2017, 2018, and 2019
Former police officer with experience in the DUI Unit at the Public Defender's Office
Attended drug & alcohol recognition training for a Drug and Alcohol Recognition P.O.S.T Certificate
Super Lawyers® Rising Stars℠ and rated Top 40 Under 40 by the National Trial Lawyers
Featured in an article on Fox40 for our commitment to the law and impressive legacy
Licensed to practice in all California and Federal courts
The experienced trial attorney you need on your side.
Law Office of Jonathan Gonzales

Jonathan Gonzalez is a relentless advocate for his clients. Put your trust in him, and he will protect your best interests with skill and vigor.

Robert Eric Oberlies

Law Office of Jonathan Gonzales

I would definitely recommend Jonathan to everyone. You won't find a better lawyer anywhere else.

Sherri

Law Office of Jonathan Gonzales

Mr. Gonzales is a hard working attorney who knows how to get aggressive with the District Attorney. I can't thank him enough for helping me get my case dismissed!!!

Anonymous

Law Office of Jonathan Gonzales

Without Jonathan's diligent representation and knowledge, I know my case would not have resulted in a successful outcome

Anonymous

Law Office of Jonathan Gonzales

Mr. Gonzales was willing to fight for my case in court; I recommend him to anyone needing criminal defense representation.

Anonymous