Sacramento Expungement Attorney
Let Our Former Police Officer Defend You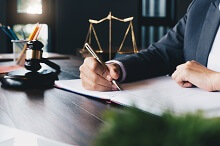 Wish that robbery charge from three decades ago would just disappear off your criminal record? You're not alone. Many people do stupid things in their younger days and live to regret it. The good news is that you may qualify for expungement.
Looking to Clear Your Criminal Record?
Expungement erases an arrest or conviction in the eyes of the law. Although law enforcement agencies will still be able to see the charge, potential employers and anyone else accessing a background report on you won't be able to see it.
You won't have to disclose your prior misdemeanor or felony on applications, during job interviews, or when applying for a home or a loan.
To discuss your situation, contact the Law Office of Jonathan Gonzales at (916) 318-5177. Our expungment lawyer is well-versed in aggressive strategies to protect your rights.
Who Is Eligible for Expungement?
In California, expungement is available to those who have been charged with misdemeanors or felonies and have completed probation.
Who is Not Eligible for Expungement in California?
Expungement is not an option for those who:
Have served a sentence in a state prison
Have been convicted of sex crimes against children
Are currently charged with an offense
Are on probation for an offense
Are currently serving time for an offense
Let an Experienced Sacramento Expungement Attorney Help Clear Your Record
When you remove a misdemeanor or felony from your criminal record, your life is no longer restricted. You can apply for jobs and apartments without having to deal with that mark on your record. If you came to America as an immigrant, expungement can keep you from being deported. You can move on with your life with more freedom.
The Law Office of Jonathan Gonzales can help with the process. Our expungement attorney will evaluate your criminal history to see if you meet the requirements. Then, our team will then conduct some research, fill out the appropriate paperwork, and attend your hearing with you.
Want to see if you're eligible for expungement? Call the our Sacramento criminal defense firm today at (916) 318-5177 to schedule a free consultation.