Dropped Charges
Charges against former Sgt. Megan Yaws, accused in a jail abuse case last year, have been dismissed. Attorney Jonathan Gonzales, of Gonzales Law Office, defended the Placer sheriff's official in court.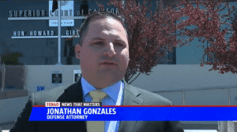 "Yaws originally was charged with filing a false report in the case, but that count was later amended to being an accessory and was dismissed in Placer Superior Court for lack of evidence," Attorney Gonzales told The Sacramento Bee.
---
Arrested? Schedule your free consultation today.
---
Accusations
Allegations of inmate abuse and cover-ups at the Placer County Auburn Jail surfaced in May 2017, with claims that a former inmate had been beaten and had his testicles groped by another officer, who was already facing abuse charges on a separate case. In total, three law enforcement officials were arrested because evidence had been found of excessive force against inmates at the Auburn jail, although the culprits were unclear.
The judge overseeing Yaws' case found there was insufficient evidence at the preliminary hearing to continue with charges against her. Now Yaws is contemplating whether or not to pursue legal action against the sheriff's department.
"The reality is after she's been in the news and painted as this horrible person, which she is not, it's pretty hard for her to get any job in law enforcement. They vilified her, made her out to be something she is not" Gonzales said.
Representation From a Former Officer
If you have been arrested or charged with a crime, you could be facing severe penalties that range from severe fines to years in prison. At Gonzales Law Office, our Sacramento criminal defense lawyer has the aggressive attitude and experience to help you avoid harsh penalties or wrongful convictions. Whether you face DUI charges or allegations of assault, our team is ready to protect your rights.
---
Call (916) 318-5177 for a free consultation and more information about your legal options.
---